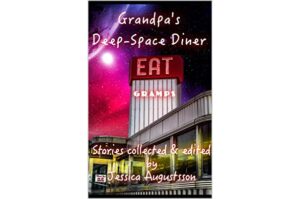 I've got several new publications out this past month!
My poem, "Here, I Rule," appears in the April Not One of Us. This is a small printed zine, which you can order directly from the publisher. The poem is a look at a child's adventure to another world.
My drabble, "Consequence," appeared in Martian: The Magazine of Science Fiction Drabbles, and it can also be found in Martian Issue 4. This one is a sort of superhero/sci-fi mash-up.
"Little T, Big T," which is a flash fiction story about a haunted recipe card, appears in Grandpa's Deep Space Diner from JayHenge Publishing. It's one of my "siblings who bicker but love each other in the end" stories.
Finally, my microfiction story, "Mind the Gap," was published at Every Day Fiction. It's urban fantasy with a semi-obvious setting, which you can probably guess based on the title!