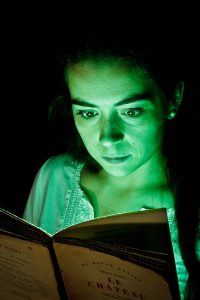 After I posted my list of 2020 short story publications, I had two more flash fiction pieces come out! Both of these were Drawlloween stories from 2018, which might have been my most successful monthly writing challenge to date–I've sold 13 of the 31 pieces I started that month!
"Maija Spencer, Internet Witch" is a very short flash piece with one teen witch calling out one of her peers. It appeared at Page & Spine in late November. This one is fairly light in terms of content.
"A Modern Mary Shelley" is an unusual second person story that absolutely needed to be told in that format, which appeared in Burial Day Books this month. It is, unsurprisingly about a goth girl that the unnamed subject of the story (you) follows home from school. This one is a bit spookier than my typical stories.
So with these two stories, I've had 18 new stories published in 2020!