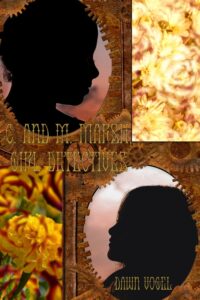 The very first story I wrote as an adult, with an intent of publication was a sweet little story about two young girls living in a mechanical garden. Because I was very lucky, I sold that story, and then sold it several more times as reprint. It wound up inspiring me to write more, and now and then, I came back to those two young girls.
The first story was "The Recondite Riddle of the Rose Rogue," and it was followed by "The Marvelous Matter of the Mischievous Monkey," The Trouble with the Tick-Tock Tabby (a book, rather than a story), and finally "The Wearisome Worry of the Wily Waif." Though I doubt I'm done with the Marsh sisters, I'm now collecting the three short stories featuring them into C. and M. Marsh, Girl Detectives.
If you've got a kid in your life who likes mystery, clever characters, steampunk, or stories about siblings, you might want to get them a copy of their own! C. and M. Marsh, Girl Detectives will be published on May 31, 2022, and it will be available in ebook or print formats. You can pre-order the ebook now, but you won't be able to order the print book until the 31st!