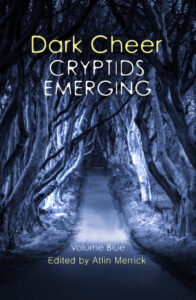 Dark Cheer: Cryptids Emerging Volume Blue edited by Atlin Merrick (Improbable Press, 2021) is a great collection of stories featuring an enormous variety of cryptid characters. With cryptids ranging from the familiar to one-of-a-kind, readers will certainly find stories that appeal to them.
I found several stories in the anthology that I enjoyed. The lead story in the anthology, "The Name of the River" by Bailey Baker, was a great story to kick things off, with an unusual narrator and and the humans they interacted with. This is Baker's first published story, so I'll be looking for more from her in the future! Kaitee Yaeko Tredway's story, "Slide," was a great story about a young cryptid just wanting to fit in, both as an unusual cryptid and as a teenage girl. "The Changeling" by David M. Donachie was very cutely told. And finally, Dan Fields' story, "Halyards of Black and Silver," was a delightful tale of a sea witch and the impact her particular brand of magic had on her community.
The stories in Dark Cheer: Cryptids Emerging Volume Blue range in length from very short flash fiction pieces to longer short stories, and the number of types of cryptid they include is abundant. There are a handful of stories that might garner R-ratings if they were a movie (generally for language or sex), so the anthology may not be appropriate for all ages, but there really is something for everyone in this anthology. A second anthology in this series will be out in May 2022, and I'm looking forward to reading it as well!
The editor provided me with a copy of this anthology in exchange for review consideration.