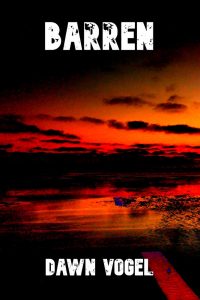 If you enjoy reading post-apocalyptic stories, you might enjoy a couple of my books!
Scenes from a Quiet Apocalypse is a novella with chapters based the major arcana of the tarot deck.
Without warning, most of humanity stopped speaking. Acting in silent unison, they overthrew the world in service to an unknown force. Their takeover was swift and decisive. Those who were not among them were left to rot in the streets.
Destiny is one of the Untouched, unaffected by the Silent Upheaval, and also something more. As she travels through the post-apocalyptic city she once called home, she meets those who will help her and those who will hinder her as she seeks what caused the Quiet Ones to emerge and takes the fight to their home in the Silent Core.
While Scenes from a Quiet Apocalypse features a younger protagonist and very recent apocalypse, Barren features an older protagonist who has been living in the apocalypse for many years. It follows Lemy's journey from her home to a new place that overturns what she thought she knew about the world.
The oceans rose, plant life withered, and humans could no longer reproduce. Now, years later, Lemy has found evidence of a place impacted only by the ocean rise. But the politics are even more treacherous than they were at home. With only a child to trust, she must navigate this new landscape to keep herself and Sky alive.
Scenes from a Quiet Apocalypse
is also a much shorter read than
Barren
. Both books are written for adults, some violence, bloodshed, and adult situations. They are generally not graphic on any of these counts.
You can find either book in ebook format where ebooks are sold!