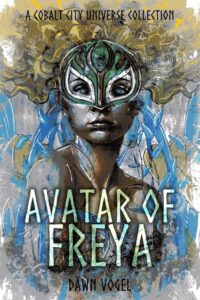 My latest collection, Avatar of Freya, is available for pre-order! This is a quick read including four superhero stories, two of which are quite short, and two of which are much longer than what I normally write. All of the stories feature Friday Jones, the titular avatar of Freya, along with some of her assorted compatriots.
Friday Jones started out as my character in a Cobalt City game that the creator of Cobalt City, Nathan Crowder, ran for several of the authors in the shared universe. After the game ended, I still had stories I wanted to tell involving her, so this collection is the result of that!
It's an honor to be chosen as the avatar of a god, raised to the ranks of superheroes in Cobalt City by their patronage. But for Friday Jones, a fun-loving biochemistry major working to solve world hunger, it's more of a burden than she expected. Follow Friday, aka Dulcamara, and her friends through four stories of the Cobalt City Universe, as she deals with a clone of her bestie, a literal dragon, a roommate too smart for anyone's good, and a seriously rude customer.
Avatar of Freya will be available on March 15, but you can pre-order it now. Because this is a slim book, it will only be available as an ebook.