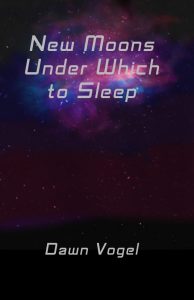 "Far from Home" is an "inspired by real life" story twisted into a sci-fi story. Much like the characters in my story, I live in an apartment building, and I have heard people dragging things down the hallway. Some authors might take that and go with a horror twist. But I took that and wrote a story about two young girls with an overabundance of imagination and curiosity.
I can't say too much more about what was being dragged down the hall without giving away too much of the story, but I can assure that 1) it's not a body, and 2) the story is slightly scary for the characters, but not in a horror way.
You can find "Far from Home" in New Moons Under Which to Sleep, along with other sci-fi stories and poetry!