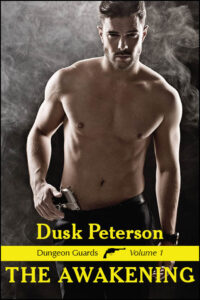 The Awakening by Dusk Peterson (Love in Dark Settings Press, 2021) is the first book in their Dungeon Guards series. An alternate history story, it consists of four interconnected novellas about guards who work in the Eternal Dungeon and their lives both within and out of the dungeon.
The alternate history aspect of this book is that the eastern seaboard of North America is ruled by monarchies, though the timeframe is more Victorian. It involves detailed explorations of prison reform, which is a topic you don't seen covered frequently by alternate history novels. The Awakening is also noted as being in the romance genre, though with an asexual protagonist, it handily avoids many of the tropes common to romance writing.
Barrett Boyd, the main character, is a guard who suffered a brain injury that has changed how he interacts with the world, as well as how he sees it. He has lost many of his memories from before the injury, much to the consternation of those who knew him before. He works to navigate his job and relationships in light of the changes he has undergone. His relationships include his lovemate, very much meant to be a life romantic and sexual partner, but for whom Barrett no longer has sexual yearnings. (The idea of a brain injury causing asexuality in Barrett may not be everyone's cup of tea, but it is handled delicately and without the stigma of "broken" asexuals, for the most part.)
Of the four novellas, two take place wholly within the Eternal Dungeon, chronicling the lives of the prison guards at work, and the other two take place outside of the dungeon, showing the prison guards interacting with their non-work world. While I found aspects of the prison interesting, I really enjoyed the final novella, "Tempest," as Barrett and his companions tried to have an enjoyable vacation that didn't quite go as planned. I felt that this story, in particular, really let the characters shine as people. I also loved seeing them interact with people outside of their normal lives, people who they would never have met while at work.
The world of The Awakening was a fascinating look at an alternative Victorian era, and fans of that time period would likely enjoy reading this book and others in Peterson's several series about prison guards in an alternate North America.
The author provided me with a copy of this book in exchange for review consideration.