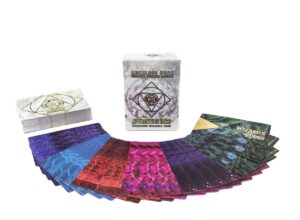 I've accumulated a large collection of card-based writing tools, each of which is useful to different parts of my writing process. So I've decided to do a series of posts about the various decks I own and how I use them in my writing.
I've talked previously about the core Reckless Deck and Reckless Deck Worlds, but today, I'm taking a look at the Reckless Deck Apprentice Pack (and Wonderland Expansion). While most of the writing tool decks I collect are geared toward adult writers (though their contents are not generally "adult"), the Apprentice Pack is meant to be a Reckless Deck that is entirely kid appropriate.
The Reckless Deck Apprentice Pack has six categories of cards: Basic Theme, Physical Changes, Costumes, Accessories, Extraordinary Objects, and Weapons & Powers. The Wonderland Expansion adds a seventh category, Reinvention (more on that later). If you compare these six categories with the six from the core Reckless Deck, you'll see a lot of similarities, just using different terminology, and splitting Accessories and Weapons down a little further. But the basic idea is still there–draw a card from each, or just draw a few cards at random, and see what sort of creation you can make.
The Wonderland Expansion specifically adds in Alice in Wonderland themed cards, and the Reinvention category is all for reinventing classic Alice in Wonderland characters. It also adds a small number of cards to each of the other categories, some of which are a little Alice in Wonderland specific, while others are more generic.
Much like the core Reckless Deck, the Apprentice Pack is going to be most useful to create a character to write about. If you're writing for a younger audience, this deck might help you make more kid-appropriate characters. But if you're already writing for a younger audience, you're probably prepared to take bits out of characters that other decks might suggest.
The cards themselves, as pictured above, are fairly simple while still being really pretty. The triangle on the right tells you what type of card it is, but the color and background art also indicates the type of card (though in some cases, you may have to look closely at that). They're also marked with a little swirl icon if they're in the standard six categories but come from the Wonderland Expansion. And the entire Apprentice Pack plus Wonderland Expansion is just slightly larger than a standard deck of playing cards.
In summary, use Reckless Deck Apprentice Pack for: new character creation, inspiration for an existing character, and for a deck geared toward younger creative types!