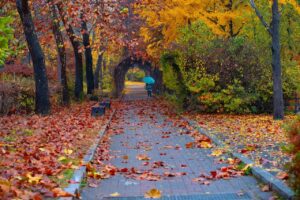 It's time for the September 2021 writing prompts, as the northern hemisphere slides into autumn.
The prompts this month are mostly September-related words, with plenty of random stuff to keep you guessing what you might do with the combination of the three words for each day! You'll also see lots of things reminiscent of autumn, though as usual, plenty of the words can be read in different ways, which may lead to some interesting links between the words.
Check back on the last Friday of each month (or occasionally the first day of a new month, when that falls on a Friday) for my History That Never Was writing prompts!
| | | | |
| --- | --- | --- | --- |
| Day | Word 1 | Word 2 | Word 3 |
| 1 | Leaf | Cup | Rings |
| 2 | Heaven | Beep | Stripe |
| 3 | Button | Sure | Report |
| 4 | Esteem | Yourself | Dream |
| 5 | Lake | Desk | Upside Down |
| 6 | Need | Hands | Examine |
| 7 | Teach | Father | Eggs |
| 8 | Briar | Scale | Broken |
| 9 | Orange | Canvas | Fall |
| 10 | Rake | Repetition | Strategic |
| 11 | Doctor | Reset | Feel |
| 12 | Out | Moon | Rate |
| 13 | Apple | Place | Away |
| 14 | Ultimate | Ember | Healthy |
| 15 | Remember | Correction | Book |
| 16 | Bat | Like | Ninth |
| 17 | Coffin | Memory | Key |
| 18 | Person | Gryphon | Learn |
| 19 | Paper | Even | Insecure |
| 20 | Bills | Ends | Favorite |
| 21 | Beginning | Leaden | Ink |
| 22 | Clouds | Crisp | Grief |
| 23 | Drowning | Aster | Triangle |
| 24 | Loud | Night | Terse |
| 25 | Sapphire | Angle | Treasure |
| 26 | Major | Test | Best |
| 27 | Celebration | Question | Class |
| 28 | Labor | Game | Quiet |
| 29 | Change | Supply | Wish |
| 30 | From | Lost | Temper |