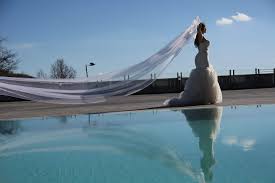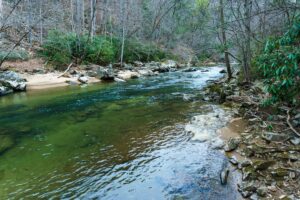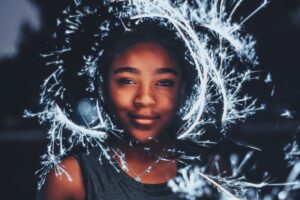 This week's photo prompts are based on a search related to water, which seems like a nice thing as the summer continues on!
The first image depicts a person in a bridal gown with a very long veil standing beside a placid swimming pool, with the water reflecting the person. The sky is blue, and there are trees and a fence in the background.
The second image depicts a natural pool of water. The water is clear enough to see the surface beneath it, and it's tinted green and brown by the surroundings. There are trees and other plants on either side of the water, with a beach-like area in the distance and rocky terrain in the foreground.
The third image is of a smiling person with medium brown skin and dark hair that is pulled back, and wearing a dark sleeveless shirt. Around their head is a time lapse effect of water, which looks a bit more like a time lapse effect of a sparkler or other firework.