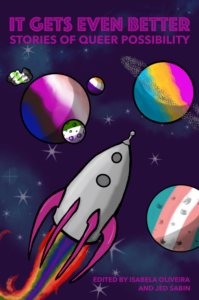 It Gets Even Better: Stories of Queer Possibility, edited by Isabela Oliveira and Jed Sabin (Speculatively Queer, 2021), is a lovely collection of 22 affirming stories of queer possibility. The stories range between science fiction and fantasy, worlds you can easily recognize and those you can't, and always filled to the brim with queer characters making their way through their world.
This anthology was chock full of stories that I enjoyed, and some that I really loved. "The Invisible Bisexual" by S. L. Huang was a sweet twist on the joke about bisexuals being invisible. Kristen Koopman's "Frequently Asked Questions About the Portals at Frank's Late-Night Starlite Drive-In" took a FAQ format and made it into a delightful humorous story. "Sea Glass at Dawn" was a lovely tale of found family by Leora Spitzer. Lauren Ring's "Gold Medal, Scrap Metal" was a cute tale of a young woman finally allowing herself to admit her love for her best friend. Aimee Ogden and Ziggy Schutz each told brief coffee shop stories, with two very different angles. And the final story in the anthology, "The Mountain Will Move If You Ask," by Jaxton Kimble, was a powerful story of believing in yourself and your own worth.
There are plenty more stories that I didn't mention specifically, but I didn't dislike a single story in the anthology, which is a wonderful accomplishment for the editors to put together such a strong collection of stories. The anthology also presents content notes for the stories to let readers know if there are any stories they might prefer to skip over due to the content, which is a wonderful feature.
It Gets Even Better: Stories of Queer Possibility will be out soon, though the exact release date has not been given yet. (I received an ebook copy of the anthology in advance of the print book publication as a backer of the Kickstarter that funded this anthology.)