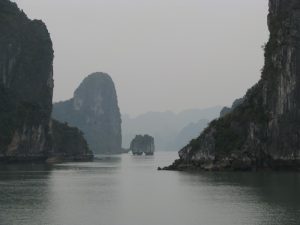 I'm back to writing some new form poetry, so it's time to talk about another form! Today's form is the Vietnamese Luc bat (the proper rendering includes marks that I can't render here, but you can see them if you click that link for the Wikipedia article). The name means, simply, "six eight," which refers to the number of syllables in each line–an alternating pattern of 6/8 that recurs throughout the poem.
The other major feature of the Luc bat is the rhyme scheme. In the first line, the sixth syllable introduces a rhyme that is echoed in the following line on the sixth syllable. But then the eighth syllable of that second line introduces a new rhyme that appears in the sixth syllable of the third line and that of the fourth line, and then a new rhyme starts again on the eighth syllable of the fourth line. You can see this sketched out here.
Luc bats can be of any length you like, so long as they follow the syllable pattern and the rhyme scheme. The subject matter can be whatever you like as well, making this a versatile and fun form to play around with. My main recommendation is to make sure that you like the sounds you choose for the rhymes, because most will need three instances, which can be tiring to dredge up when you're writing!