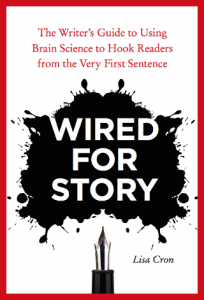 Wired for Story by Lisa Cron is a fantastic book for writers who want to work more on their writing craft. Using facts about how readers' brains work, Cron explains how you can use and defy expectations in ways that will satisfy your readers. At the same time, she gives excellent insight into why some writing "rules" are actually counterproductive when you want your readers to enjoy your writing!
The advice this book offers is extensive, and while it's geared primarily toward long-form writing, there are a number of pieces of advice that can just as easily be applied to short-form writing as well, especially in the area of figuring out what to cut and what to keep in stories where you're trying to make it under a specific word count. I highlighted and flagged a large number of pages throughout the book, especially the chapter summaries that Cron offers at the end of each chapter as a "checklist" to go through when you're considering what you're planning to write or have already written.
Throughout the book, Cron uses movies and books as examples, and while the movie references are most useful if you're familiar with the movies in question, she excerpts bits from the books to illustrate the points, making those accessible even if you haven't read the books. The movies are not obscure, and if you haven't already seen Die Hard, you'll want to watch it before reading this book (and other books I've read on writing craft), as it's touted as one of the best movies for learning how to tell a complete and satisfying story.
I do think this book is most useful to experienced writers rather than new writers. If I had tried to read this book when I was a novice writer, the amount of details I needed to juggle would have overwhelmed me. But reading it after having written a few novels meant that a lot of the advice really resonated with me and showed me why some of the things I've done in previous novels haven't worked as well as I'd hoped. And some newer writers might be able to parse all of the information this book gives you–your mileage may vary.
I also noticed as I read this book over the course of several evenings, that when I sat down to work on my current WIP novel, it informed some of the choices I made for the details to include or exclude, even while I still followed my novel outline. Just having a few of the snippets of information that I'd retained already made the writing smoother and less likely to need heavy revisions later, since I'm already using the techniques I learned to write the best version of these new scenes.
So if you're a writer who wants to improve your craft and who enjoys learning about how stories work or don't work for readers, Wired for Story is a great place to start!