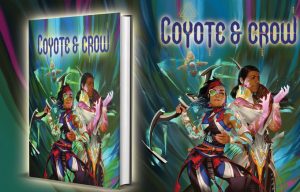 Though the Kickstarter is already well-funded, I wanted to share Coyote and Crow, a roleplaying game set in a near-future where the Americas were never colonized, written by Native creators.
This Kickstarter funded in 45 minutes, which isn't surprising at all. This game looks gorgeous, and the content sounds amazing. I'm particularly excited because the center of the game is the city of Cahokia, which is very near to my hometown of St. Louis. Growing up, we visited Cahokia Mounds, a state historic site in Illinois that was the location of a pre-Columbian Native American city. So it's set in an area that I'm familiar with, but utilizing history that I'm not particularly versed in. So I'm both excited to play the game and learn about the people who lived in the region that eventually became home to European immigrants like my ancestors.
The Kickstarter runs until April 1st, and it's already well over its funding goal. But if you want to get in on what looks like a very cool game, check it out!