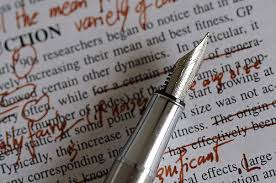 I learned how to edit my papers for high school and college by printing out drafts, reading through them, and marking them up with red ink (or whatever funky colored pens I had). But that was in the halcyon days of dot matrix printers, which, in the household I grew up, at least, had a never-ending supply of ribbons. Even in college, when we had to pay for prints on the laser printers, the dot-matrix printers remained free and mostly functional.
But fast-forward to the present day, when many people don't have printers of any sort at home, or if you do, they always seem to run out of some color of ink just when you need them. Deciding that I want to edit something on paper means finding a way to print it out. It makes a lot of sense for longer works, like novels, but when it comes to shorter fiction, I find it's rarely worth the time and effort.
For me, there are some stories that I really prefer to edit on paper. But there are also tricks that can simulate a printed out document, in a pinch.
If I've got something that's very close to flash fiction length, and I need to carve it down, having paper will let me keep a running tally of how many words I've been able to pull out. However, this could be done with Track Changes, so you can still see where you've pulled things out and added things if necessary to smooth over the deletions.
If I've got a story where I need to balance out two elements, a printout can allow me to find the right places to add those elements and visually look over the whole thing to make sure the balance is evenly distributed. This could be done electronically by changing up text colors for the elements and then looking for spots that are heavily one color rather than both colors.
Similar tricks can be used if you need to go through a piece to check out all of the dialogue from one character, to make sure the voice is consistent (highlighter on paper, or highlighter in a word processing program). And, of course, if you need to do a search for crutch words, the Find function in work processing software is going to do a much better job of it than you might without that level of assistance.
So while in my heart, I will always love the feeling of editing on paper, I've reached a point where I can make some adaptations for my lack of printer, particularly since I write and edit so much short fiction.