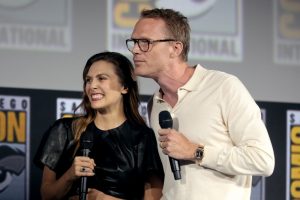 We normally don't watch new shows as they air, because it's hard for us to commit to sitting down to watching something weekly. But we're making an exception for WandaVision, because it's wonderful and weird, and we love it!
It's equal parts homage to classic television sitcoms and creepy weirdness. In some ways, it reminds me of Twin Peaks–a facade of normalcy with deeply weird stuff just under the surface. There are tiny, ominous Easter eggs that hint at what's to come, and I can't wait to see how all of it plays out.
In addition to the writing and plot being amazing, Elizabeth Olsen and Paul Bettany are SO GOOD with their comedic timing. This was not something I would have thought of either of these actors, based on their roles in the MCU movies. But on WandaVision, they completely shine as comedic actors, while still having the appropriate gravitas for the less comedic scenes. The supporting cast is also doing a great job, both with the comedy and the dramatic tension.
You can watch the first four episodes already on Disney+, and then on Fridays for the remaining episodes (the whole series will be done by March 5th, if you prefer to wait and watch it all at once3).