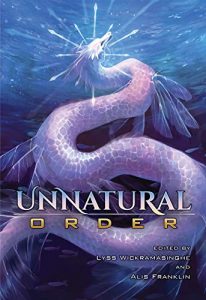 Unnatural Order, edited by Lyss Wickramasinghe and Alis Franklin (CSFG Publishing, 2021), is an anthology of stories of monstrous beings produced by the Canberra Speculative Fiction Guild. The stories range widely under the speculative umbrella, with fantasy, science fiction, and horror all represented in the anthology's pages. In a themed anthology, each author's ideas on a topic get to shine, and nowhere is this better seen than in an anthology that asks "what if the monster was the protagonist?" The answers involve unique takes on extant monsters of myth and legend, as well as the creation of new fantastical beasts.
My favorite stories in this anthology included both sweet and horrifying stories. I loved "Full Steam Ahead," the bittersweet story of a voidbeast and her girl, written by Alexander Hardison. Another sweet and charming story was Freya Marske's "Eat Prey, Love," which not only had a clever title, but also a brave young water mage teaming up with another mage's familiar to battle monsters of the deep. Leife Shallcross's visceral "Bruises Black and Blue" was horrific and magnificent in the same space, painting a gorgeous revenge story with an aquatic monster. And finally, Tansy Rayner Roberts weaves a lovely brief tale of female monsters finding a place together in "Meet Me at the Medusa."
Anthologies serve as a wonderful way to expose readers to a number of new authors, and I'm excited to look for more stories from these authors and several more who were included in this anthology. If you love reading stories where monster doesn't equal bad or evil (though sometimes it can, even when they are the protagonist), check out Unnatural Order to find some new monsters and authors to love!
The publisher provided me with a copy of this anthology in exchange for review consideration.