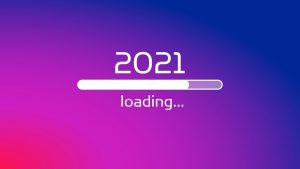 While 2020 didn't go entirely as planned for many folks, even after a promising start, I'm hopeful that 2021 will be an improvement. True, things can still get worse, but I'm choosing hope in terms of creating my goals this year.
One of my goals for 2020 was to become agented, but that didn't pan out. I'm fairly certain that I won't have a novel ready to make the agenting rounds this year, but I can still work on getting novels started that will eventually reach the point of going out to agents. So this becomes a long-term goal, not just a 2021 goal.
To that end, I plan to write the first drafts of three new novels this year–two YA novels, which will likely both be stand-alone books, and the "sequel" to Sure Shot in Las Capas: The Case of the Absent Star. (I put sequel in quotes here because my goal is to have a series of these novellas, but they won't necessarily need to be read in a specific order.)
For shorter fiction this year, my schedule currently allows for me to complete 18 short stories this year. I've already started. Three of those stories are already written and just need revisions. Another seven stories are begun, remnants from Drawlloween 2020. The final eight will all be determined when I get there. I'll also be doing two flash fiction contests, netting me eight flash fiction stories, and one poetry contest, netting me four poems. In addition, I'm planning on doing Mermay and Drawlloween again, which can each produce up to 31 new pieces of one sort or another. So I could have quite a prolific year of short fiction, flash fiction, and poetry, but my minimum goal is 18 short stories, 8 flash fiction, and 4 poems.
I'll continue reviewing books this year, which will probably be another 18 or so book reviews, to be posted on this site. (If you've got a book you'd like reviews for, check out my Review Policy page!)
Finally, I have big plans for self-published releases this year. Two of these are nearly ready to go: Promise Me Nothing, my YA contemporary fantasy, will be out in February, and Barren, my post-apocalyptic novella, will be out in April. I also hope to release at least three collections of short fiction and poetry, theoretically in May, June, and July. And then we'll see what the latter half of the year will bring on that front!