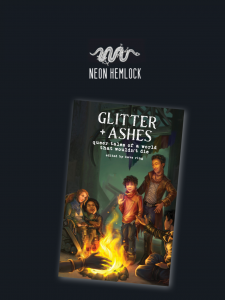 Glitter + Ashes: Queer Tales of a World That Wouldn't Die, edited by dave ring (Neon Hemlock Press, 2020), is a collection of stories and a couple of poems about queer characters in a post-apocalyptic world. The stories range from funny to heartbreaking, while making stops at nearly every point in the range of human emotion.
A number of the stories are quite short, at only a few pages, which makes them quick reads. Many of these only present a moment in the lives of queer characters surviving whatever the apocalypse has thrown at them. The bulk of the book, however, is longer stories, with more of a traditional arc.
As is normally the case with anthologies, there are always a few stories that stand out for me. "The Bone Gifts" by Michael Milne is on the sadder side of the spectrum, but I loved the slightly Viking-esque feel of this post-apocalyptic world. Blake Jessop's "When She Nothing Shines Upon" was a lovely story of a mech pilot and her mechanic as they grow from strangers to partners. And "The Last Dawn of the Targadrides" by Trip Galey was a gorgeous mélange of elements that reminded me of the queer spectacle of Pose, the baroque politics of Dune, and the surreal fantasy of the Nobilis roleplaying game.
The book also includes Dream Askew, a roleplaying game by Avery Alder that focuses on the community of a queer enclave during an apocalypse. Though I haven't played this game, I love other of Avery's games, like Monsterhearts, so I anticipate that I would love this one as well!
If you're looking for a broad range of post-apocalyptic fiction featuring queer characters, Glitter + Ashes is a wonderful anthology that is sure to contain stories that you will enjoy!
The editor provided me with a copy of this book in exchange for review consideration.