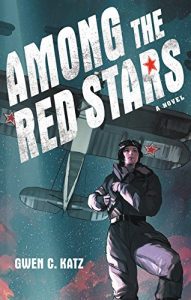 Among the Red Stars by Gwen C. Katz (Harper Teen, 2017) is a historical fiction novel featuring the Night Witches, the Russian women pilots who flew daring nighttime missions. While the details of the plot are slightly fictionalized, the novel adheres closely to the reality of the history of the Night Witches.
The story revolves around a young woman pilot, Valka, and her childhood friend, Pasha, and their relationship as it progresses while both are away serving in the military. For Valka, who has always been interested in flying, the inclusion of women pilots is a dream come true. But as she and her cousin Iskra learn, the military life is difficult and dangerous. Meanwhile, Pasha, whose skills and passions are related to radios and sound, become a radio operator for the army. Much of the story is told through the letters that Valka and Pasha write back and forth to each other, with additional scenes from Valka's perspective as she goes about her training and missions.
I found this book to be a fantastic way to humanize the historical Night Witches as young women who brought a myriad of experiences and dreams to the Russian military. Though the characters in Among the Red Stars are adults, they are only newly adults, and the plot and themes of the book are appropriate for young adult readers as well as adults, particularly if they have an interest in history. If you're interested in the Night Witches, World War II, or Russian history, you will likely find this book as charming and lovely as I did.