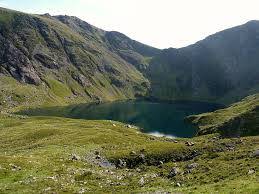 I've been interested in trying some of the Welsh poetry forms, but I find a lot of them intimidating due to their requirements for meter and rhyme. While the Clogyrnach also includes those requirements, they seem a little more friendly in this shorter form.
The Clogyrnach (pronounced Clog Ear Nak) is a Welsh poetic form (occasionally attributed to Irish poets) with five or six line stanzas, in three couplets of decreasing syllables (8, 5, and 3), with an aabbba rhyme scheme for the lines. The reason for the five or six lines is that you can either let the final couplet stand as two very short lines, or you can combine them into a six-syllable final line (though maintaining the b-a rhyme on the third and sixth syllable). Your poem may comprise multiple stanzas in this pattern, depending on your length preference or needs. And I'm certain that someone, somewhere, has done this with linked rhymes extending across the stanzas, but that's beyond my rhyming capabilities.
So if you'd like to dip your toes into an easier Welsh form, check out the Clogyrnach and see what you can do with it!