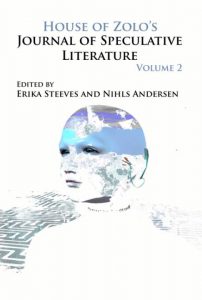 I've got a new story out this week! "At What Cost?" is included in the second volume of the House of Zolo's Journal of Speculative Literature.
The inspiration for this story came from the week-long stints I used to do for work, where I would drive into a former limestone quarry known as "The Cave" and work in an archive there. Being completely underground, and about 1/2 a mile into the facility, you couldn't see daylight from the time you arrived to whenever you left. (Sometimes, if I went with other co-workers, we would leave at lunch, but when I went solo, I often brought a lunch instead.) There were a whole ton of people who worked down there, and it felt like they were always there when I arrived, and always there when I left … as though they never saw daylight at all. But instead of making this a vampire story, I decided on a sci-fi setting, and then there were clones and terrorists and family.
You can check out my story and many others in the House of Zolo's Journal of Speculative Literature volume 2! The ebook is free through Friday, and then the price goes up to $2.99 Canadian!