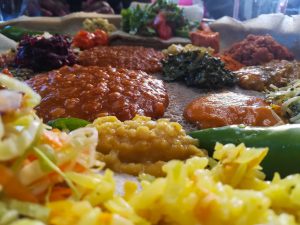 A couple of folks I know have Kickstarter projects going right now, which I think some of my readers might be interested in!
Atthis Arts is currently seeking support for In This Moment, an anthology of stories and poetry for global justice, reflecting the protest and resilience that fill our lives in 2020. The already slated authors are certain to make this anthology fantastic, and it will also include additional authors if they are funded! The Kickstarter will fund the production of the book, but future proceeds are slated to go to social justice charities. This Kickstarter ends on October 29th.
Author Lawrence M. Schoen runs a regular feature on his blog called "Eating Authors," in which authors talk about memorable meals they've had. He's collecting these articles and more to release an Eating Authors book, with the Kickstarter again funding the book, but with future proceeds benefitting cancer research and the SFWA Emergency Medical Fund. This Kickstarter runs until October 28th.