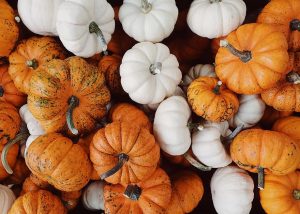 It's my favorite time of the year: Halloween! I'm ready for lots of spooky writing prompts and other autumnal delights!
This month, the words in the first column come from Millennial Boss's Simple Drawing Prompts. Words in the second column are the words that I've come up with, steering clear of the October theme of the other two columns to cut down on duplication. And the words in the third column are from Mab's Drawlloween Club, which I've been using as my October prompts for a couple of years now.
Check back on the last Friday of each month (or occasionally the first day of a new month, when that falls on a Friday) for my History That Never Was writing prompts!
| | | | |
| --- | --- | --- | --- |
| Day | Word 1 | Word 2 | Word 3 |
| 1 | Fruit | Impact | Werewolf |
| 2 | Bat | Apathy | Pumpkin |
| 3 | Candy | Ash | Changeling |
| 4 | Ghost | Settle | Poison |
| 5 | Shoes | Calorie | Witch |
| 6 | Stormy | Witness | Familiar |
| 7 | Mask | Opponent | Vampire |
| 8 | Foliage | Accumulation | Tarot |
| 9 | Cat | Coincide | Gorgon |
| 10 | Mushroom | Problem | Hellhound |
| 11 | Witch | Toss | Skeleton |
| 12 | Acorn | Comment | Grave |
| 13 | Lighthouse | Cafe | Pukwudgie |
| 14 | Bug | Bin | Extraterrestrial |
| 15 | Jack o' Lantern | Point | Nightcrawler |
| 16 | Vampire | Hierarchy | Goblin |
| 17 | Moon | Mechanism | Frankenstein |
| 18 | Web | First-Hand | Undead |
| 19 | Candle | Sketch | Apothecary |
| 20 | Orange | Silence | Fur |
| 21 | Mummy | Sink | Yokai |
| 22 | Autumn | Struggle | Wizard |
| 23 | Magic | Cane | Cryptid |
| 24 | Sunflower | Relax | Winged |
| 25 | Fox | Budge | Puppet |
| 26 | Owl | Window | Batsquatch |
| 27 | Elf | Enhance | Lagoon |
| 28 | Mermaid | Contact | Haunted |
| 29 | Creepy Clown | Sphere | Hydra |
| 30 | Bones | Tongue | Mask |
| 31 | Scary | Training | Reaper |