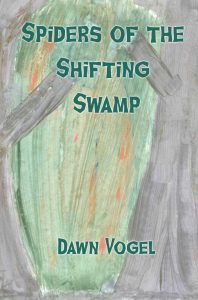 And now for something completely different, I've written and illustrated my first ever children's book!
Spiders of the Shifting Swamp started as a short story loosely based on a world that Jeremy had created, or at least tucked into the corner of a world he had created. The story was VERY short, and one market suggested that it read a bit like a children's book. So I revised it slightly for reading level, and then I set out to find an agent with it.
It's a common theme in children's books that most agents are looking for author/illustrators. I don't consider myself an illustrator. But after I ran through a number of agents who weren't really interested unless I had art, I decided to take a stab at the art myself. It turned out well enough that I decided instead to self-publish this book.
The fun part about the art is that the majority of it was painted using mineral eyeshadow and acrylic medium. The pigment in the mineral eyeshadow makes some very cool paint. The only downside of it was that it dried out before I'd finished all of the pages, so some pages are done with commercial acrylic paint rather than my homemade paint. I'm still pretty happy with the results of both sorts of paint, and learning some techniques to get the look of watercolor with the ease of acrylic.
Spiders of the Shifting Swamp is available in print only, though if there is demand for it, I may be able to also publish an ebook version. The artwork makes it a little trickier for e-readers, though. And while my original plan was to release this book at the beginning of October, since it is print only, it's available a little earlier than planned!