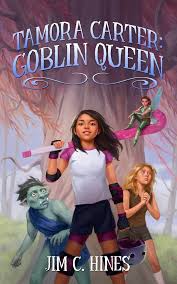 Tamora Carter: Goblin Queen by Jim C. Hines is an exciting middle-grade urban fantasy book with plenty of mythical creatures and adventure for the young protagonist and her friends!
Tamora Carter's best friend Andre is missing, and she's hopeful that he'll be found. Until he is, she's still got roller derby(*) practice and taking care of her rescued animals. But when she meets goblins in the parking lot behind the roller rink, her entire life changes in an instant. Goblins, faeries, and dragons (but not the traditional sort) are real, and it's all connected to Andre and a couple of other missing kids. She teams up with her brother and the sister of another missing kid to figure out what's happened to these kids, and how to rescue them.
The characters in this book are so wonderful that you can't help but root for them to persevere. They're smart and clever, but they're also kids, a fact that the book doesn't lose sight of. Luckily for them, they've got adults who will help without taking over, allowing the kids to be the heroes they deserve to be in this book. I also really enjoyed the portrayal of Mac, Tamora's older brother who is an autistic, largely non-verbal teenager. This character was handled with sensitivity and care, and it was neat to see that represenation. There's also cool stuff about different faerie tales than the ones we're used to woven into the story, and plenty of twists and turns to keep you guessing.
I'd definitely recommend this book to younger readers in a heartbeat. There's some violence, but it's not graphic, and while the kids encounter some dangerous situations, there are only a few bits that might be scary, and those generally resolve with some humor. For me, it was a very quick read, but that was in part because I got so absorbed in the story that I couldn't put it down! Tamora Carter: Goblin Queen will be available for your reading pleasure on September 15, 2020!
(*) Yes, that's a field hockey stick on the cover, which had me concerned as a former roller derby official, but trust me, it makes sense in the context of the book. The roller derby and roller skating in the book is accurately written!
The author provided me with an advance copy of this book in exchange for review consideration.