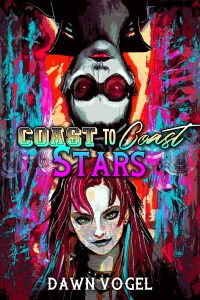 The first story I wrote for the collection that eventually became Coast to Coast Stars was "Comeback Tour." This seems like an odd place to start, since the title implies a backstory that I hadn't written.
And then there were the leggings. The leggings were a thrift store find that made me think of a super hero. When I polled my friends to see if they would work for a cosplay, one of them suggested coming up with an original character and cosplaying her.
Between that and a plan with some of the other Cobalt City writers and I wanting to write Cobalt City stories involving music, Gray Dawn was born. She'd been a pop star in her late teens and early twenties, then went missing for a while, and then came back to her hometown to deal with some unfinished business with her former record label. Amanda Cherry concocted her nemesis and the CEO of said record label, Ruby Killingsworth, and wrote Rites and Desires based on that character.
"Comeback Tour" was the first Gray Dawn story I wrote, even though chronologically, it's one of the later stories in Coast to Coast Stars. But even though I started with her as a 40-something woman finally becoming a super hero, it helped to inform the unwritten backstory and led to "Happily Never After," the other Gray Dawn story in this collection!