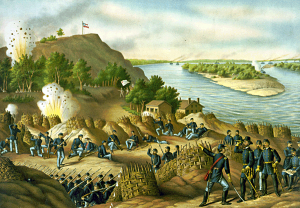 Catherine Schaff-Stump is hosting some of my articles about the real history behind my stories from Unfixed Timelines at her Fantastic History blog. The second post, "The 19th Kentucky," is up now!
The characters in my story, "The Glorious Dead," were members of the 19th Kentucky, and one of those characters, James J. Ray, was based on a real person. Thanks to one of his descendants, I got to help transcribe his Civil War diary that talked about the Siege of Vicksburg, which I thought would be a great setting for a zombie story.
You can read more about the 19th Kentucky at the Siege of Vicksburg in my post at Fantastic History, and you can read the story in Unfixed Timelines!