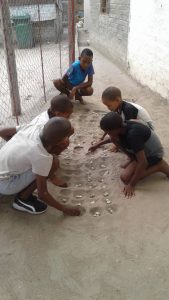 Last week, I was able to do one of the online classes offered through Clarion West. The one I participated in was the Writing Sprints with K. Tempest Bradford.
For the prompt for our writing sprints, Tempest used a game called "I Believe," which is a lonely game that's included in Of the Woods. The idea of a lonely game is a simple game that you can play solo. But, as it turns out, they can also make really neat writing prompts.
The lonely games start with a statement, followed by a bit of setting. In the case of the writing sprint we did, Tempest skipped the setting, allowing us to come up with that on our own. Though we didn't discuss what we had written in anything other than vague terms, I suspect that each of the authors came up with different settings, though some may have had some common traits based on the initial statement.
Once you've had a moment to think about your story in terms of the statement, there are then a series of questions, and for each question, Tempest gave us five minutes to write. We could go for longer than five minutes on a question and then catch up to the other ones later, but I found that I had generally reached a point where I was ready for a new twist after about five minutes. (Bear in mind, too, that I am a fast typist, so I can manage a lot of words in five minutes.) Finally, at the end of the questions, there's another statement, which we had a couple of minutes to write on.
And at the end? I definitely had the bones of a story. It needs some fleshing out in places, and I may need to rearrange some of the pieces to make it fit together better. But about 1,200 words in 45 or so minutes is pretty darn good, especially for a story that I had no ideas at all about before I started writing the first line.
After the class, I picked up Of the Woods and another lonely game, English Eerie, which is more horror based with historical settings. I'm looking forward to trying out more of these games as writing prompts!