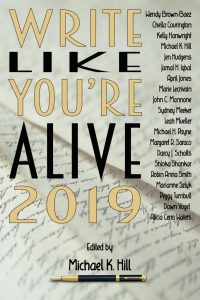 The Write Like You're Alive 2019 anthology is out now from Tangent Press, including four of the poems I wrote during the month of August! My contributions are "For My Sisters, A Bequest," "Tiny Tornadoes," "Secret Gladiolus," and "The Final Winter." They're a mix of fantasy and post-apocalyptic poetry.
They're joined in the anthology with work by more than a dozen other contributors, who wrote poetry, short stories, or made artwork during the same challenge.
Best of all, it's free at the Tangent Press website!