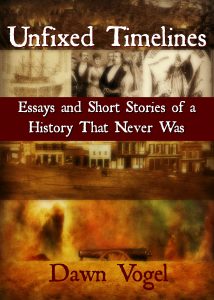 If you're a fan of the stories I included in Unfixed Timelines, here are some other stories of mine you might want to track down.
Wild Musette's Vegetable Pulp issue includes my Night Witches story about a Russian opera-singing witch rescuing her pilot and killing Nazis in World War II Germany, "Nochnaya Serenada." The title is a loose translation of "A Little Night Music" into Russian, then transliterated to use Roman characters.
My story "All That Transpires Under the Night Sky" also involves magic, but in this case, it's World War I-era German magicians dealing with a demon. You can find this one in the Bargains anthology from Pine Float Press.
Finally, if you'd prefer less Nazi and demon fighting magic users, "Parcel Post" is a cute and sweet middle grade story that ties together the idea that you could allegedly mail children at various points in history with an old book called The Enchanted Castle by Edith Nesbit. It's available in Frostfire Worlds' August 2018 issue.
At some point in the future, I'll be collecting these and other historical fiction stories into additional installments in the Unfixed Timelines series, complete with essays on the real history. In the meantime, you can check out these or the five stories in Unfixed Timelines!