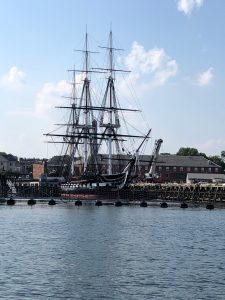 We spent the last week of July visiting the Northeast U.S., which was a place that Jeremy had never been, and I had barely been (save for a quick conference trip to Rhode Island some years ago). It was ridiculously hot the entire time we were there, and the wifi in the hotel that we spent most of our time was intermittent. So it meant I had a lot of time to NOT work on writing.
We managed to visit six states on our trip: Massachusetts, Maine, New Hampshire, Vermont, Rhode Island, and Connecticut. (And with those five new states for me, I have only six states in the entire U.S. I've never visited. Unsurprisingly, two are Alaska and Hawaii. The other four are North Dakota, Delaware, New York, and New Jersey. Amusingly, I looked into extending my trip and going to New York. But that didn't happen because it would have been an expensive side trip to see my favorite K-pop band, and Jeremy wouldn't have been able to go with me for that part of the trip.)
We got to see loads of historical stuff. We went to Salem (Mass.), Mystic Seaport (Conn., where the Mayflower II is currently undergoing repairs), Plymouth (Mass.), and Plimoth Plantation (the recreation of what Plymouth looked like in the 1600s) for our history fix. We also stopped in Providence, RI, to see H. P. Lovecraft's grave, and drove out to Provincetown (Mass.) so we could see the Atlantic Ocean. We literally drove far enough into Maine so we could stop, put our feet on the ground, and say we'd been there. And we had dinner at a brew pub that was mostly in Vermont, but just a little bit in New Hampshire!
We capped off our trip by spending part of a day in Boston, where we went to the New England Aquarium (SO MANY PENGUINS!) and took a harbor tour, which wound up being very neat, as we learned a lot about the way Boston is pretty much continually growing by putting more wharves into Boston Harbor.
I did VERY little writing work. We went to a Starbucks one morning to do a little bit of work, and a wine bar another afternoon for the same. But even without doing any actual work, we were absorbing LOTS of information that will feed into our writing, including the aforementioned Boston continually growing bit (which is relevant to the Cobalt City Universe). So by taking a little time off, I got to relax while also refilling my brain!