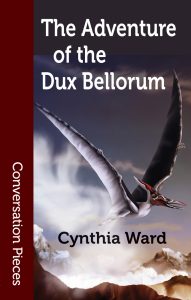 My latest review for Mad Scientist Journal is now live, this one for a sequel to a book I reviewed earlier. The Adventure of the Dux Bellorum is the second in Cynthia Ward's series of novellas about Lucy Harker, the dhampir daughter of Mina (Murray) Harker and Dracula.
It's a fun bit of alternate history with literary characters strewn liberally throughout, plus some wolfmen and (in case it isn't obvious from the cover), DINOSAURS!
You can check out my review here, or the book here!