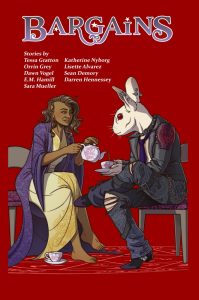 I've got four stories coming out in April and May, three of which are in anthologies, and the fourth of which (which actually comes out first) is a quick read!
On April 12, you'll be able to read my story, "Brick-Red Love," at The Arcanist. This is one of the stories I wrote during Drawlloween (using the prompt of "bride"), and I'm thrilled with how it turned out and to have found it a home relatively quickly! It's a very quick read, as it's just shy of 800 words.
On April 16, Swords, Sorcery, & Self-Rescuing Damsels comes out, including my short story, "Princess Last Picked." It's a sweet middle reader story about a princess and her friends saving the day. This story was solicited by the editor (which is a really exciting feeling, by the way) and written for this anthology. It's also where I learned the lesson "don't give your characters Celtic-inspired names that you don't know how to pronounce." I wound up spending a while on YouTube to get some pronunciations when I learned this would also be released as an audiobook!
In May, Five Minutes at Hotel Stormcove comes out, featuring my flash fiction story, "Safe Haven." This was another Drawlloween story (the prompt was "werewolf"), but one that I wrote with this anthology in mind. The premise of the anthology is that each of the stories takes place over the course of five minutes, so it's another flash piece, only 660 words. I'm happy that the editors loved it as much as I did!
Also in May, Bargains will be out, including my short story, "All That Transpires Under the Night Sky." The Bargains anthology was pitched as a collection of stories about deals with otherworldly entities. Around the same time I was asked to submit a story to this anthology, I dug up an old story of mine that I had never quite finished, and I realized it would be a perfect fit for this anthology call. Two things slowed me down a little. The first was that I had included stuff in the story that I couldn't remember what I was doing with it. (That was an easy enough thing to fix, since some of them could just be scrapped.) The second was coming up with the title for this story. Jeremy helped me pick out a key line from the story, and I went with that as the title. Bargains is currently on Kickstarter, it's already reached its funding goal, and backers get a preview ebook! What's not to love about that?
I'll have another half dozen stories out later in the year, but I figured I'd get a handful of these into one post!