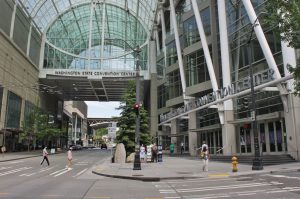 I didn't get to spend a ton of time at Emerald City Comic Con this past weekend, between my day job and writing that needed to get done. But I cruised the sales areas on Friday night (and chatted with my vendor friends) and spent most of Saturday at the convention or nearby. I went to two panels that friends were on, ran into a friend I rarely get to see and spent the majority of the day hanging out with him, and then tracked down where the other authors were hanging out after hours and chatted with them at a couple of bars before finally heading home.
It was a lot of people everywhere and a lot of noise, and I've almost lost my voice just from talking loudly enough for my friends to hear me over the background noise. And I walked almost 6 miles over the course of Saturday, in boots that are still not 100% broken in … though I suspect they're much closer after Saturday! So I'm glad I mostly got to sit in a chair and write on Sunday!
I don't know that I personally got much out of the convention on a professional level, but I had fun and talked to people I might not normally have talked to. So that's it's own sort of getting stuff out of the convention, and I'll call it a win! And I'm going to continue to apply as a pro and propose panels, so that maybe someday, I'll be dispensing advice before a live audience of a LOT of people.