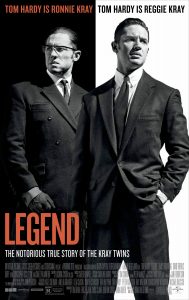 No, not the one from the 80s with Tom Cruise and Tim Curry. The one from 2015 with Tom Hardy and Tom Hardy. Yeah, you read that right. Tom Hardy plays twin brother mobsters, Ron and Reggie Kray. And a nice chunk of the British actors I love are right there alongside him.
As a warning, this is a violent movie. There's a lot of people getting shot and punched and stabbed. It's graphic but not gratuitous.
But the thing that was most interesting to me is the way that they frame the story. I can't say much more about it than that without giving away a spoiler. But it's a narrative device that has to be done just right for it to work, and I think they nailed it with this movie.
So, short version: come to see Tom Hardy and Tom Hardy (and a bunch of other awesome Brits), stay for the interesting narrative device (and then ponder how to apply that to writing).