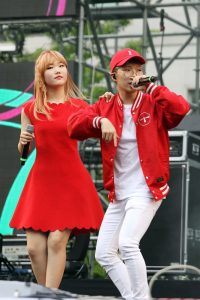 My current music obsession has surprised some folks, while other folks have just nodded knowingly. Jeremy got me completely hooked on Korean pop music.
It's become my go-to music for when I need to concentrate on a repetitive task but need some sort of music to keep me motivated. The fact that I can understand very little of it is helpful for my concentration. (Though I am inadvertently learning a few Korean words in the process.) It doesn't work as well for writing, because it's just enough of a distraction (especially as I tend to dance in my chair while I listen).
Despite the distraction factor for writing, the videos are wildly inventive, and I'm finishing up a story this week based on one of those videos. (If the story gets purchased, I'll be sure to link to the inspiration when I announce the sale!)
In case you're interested, my favorites are AKMU (pictured, and also known as Akdong Musician), Big Bang (and associated acts, including G-Dragon, GD and TOP, and more), EXO, Red Velvet, Blackpink, 2ne1, f(x), and Twice. It's a mix of serious dance music and cutesy music, and I love it!