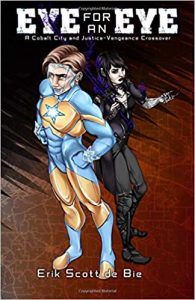 If you like your heroics tempered with a dash of moral ambiguity, Eye for an Eye by Erik Scott de Bie will be right up your alley. Featuring Cobalt City's best known superhero, Stardust, alongside the morally gray Lady Vengeance, this novel doles out plenty of witty dialogue between the two leads, as well as plenty of tension and excitement!
Lady Vengeance is on the run from her past when she stumbles into Cobalt City and Stardust, and she changes both the place and the man in the super suit, while undergoing her own moral transformation. And while they start out as rivals, they eventually need to team up to deal with the larger problem at hand–The Raven, who wants to kill Lady Vengeance and take Stardust's technology.
You can find Eye for an Eye in paperback or ebook at Amazon!