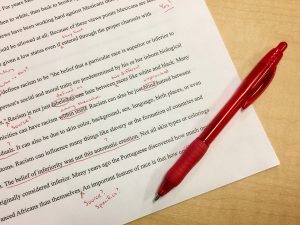 As I mentioned last week, we discovered that there were some errors in the version of Brass and Glass 2 that had been published. It's easy enough to fix the ebook, but there were a number of print copies that we had ordered for a couple of events that included the errors.
We were in a hurry to get these books out and ordered, and because of that, we didn't get to proofread them as extensively as we should have. And we've definitely learned from this experience.
In the case of the books already printed, I decided to mark them as "special limited edition" books, and added a couple of labels that tell readers what portions they should skip over. For some of the books, I added illustrations (open source images printed out and random scraps of paper) over the erroneous text, as well. (If you're interested in one of these special limited edition books, I'm happy to ship them. Just drop me a line to make arrangements.) But for book 3, we're going to do a lot more double and triple checks to avoid this happening!