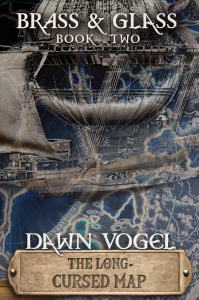 Tonight's the night! I'll be at the Indie Author Event at Brick & Mortar Books in Redmond, 6-8 p.m., with 19 other authors! We'll be talking about our books and signing copies of them! So please stop by if you're in the Seattle area to find out about a whole lot of awesome books from local indie authors!
I'll have copies of both Brass and Glass 1: The Cask of Cranglimmering and Brass and Glass 2: The Long-Cursed Map with me, so you can buy a copy and have it signed!
As a note (which I'll talk about more later), we discovered last week that there were a few errors in the first run of Brass and Glass 2. We're getting those fixed, but it means that the books that were at Miscon and the books that I'll have at the event tonight are LIMITED EDITION! The ones that will be at Brick & Mortar Books are ones that I have fixed through the clever use of paper and adhesives, but they will also be numbered as special "I got this directly from the author" books. So just a little more incentive to come out tonight!