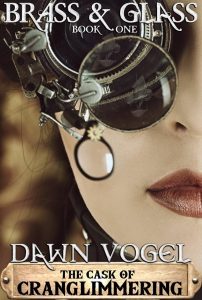 Last week, I turned in my second round of edits on the Brass & Glass 2 manuscript to my editors at Razorgirl Press, which means that we're well on our way to having a book! We're shooting to have it out by the end of May, but I don't have a release date to announce just yet. (We're still working on the title, cover art, and, of course, the final round of edits and copyediting.)
It's exciting to get the second book in this series out into the world, especially since I'm going to start writing the third and final book of the trilogy in a few weeks! That one won't be out until 2019, but it will be great to wrap up the adventures of Svetlana and crew… or at least this set of adventures. I suspect they've got other, smaller adventures in them still!
In the meantime, if you want to be up to speed when book 2 comes out, you can check out book 1 now!