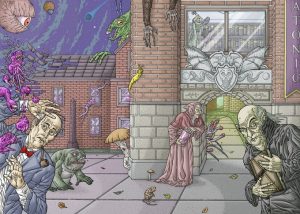 Broken Eye Books recently launched their Kickstarter for Welcome to Miskatonic University, which is an anthology of stories set at the vaunted institution of higher education in Lovecraft's Miskatonic Valley. The basic Kickstarter funding will fund one anthology, but there's a second anthology waiting in the wings as the first stretch goal. And that second anthology will include a story by yours truly, called "Hashtag TPE."
This is, strangely, the first Lovecraftian story I've written that doesn't involve the King in Yellow. It's a bit more urban fantasy than straight-up horror, because that tends to be the way I roll. But it's in GREAT, amazing company, and I'm really looking forward to see BOTH of these anthologies make their way into the world!
If this sounds like the sort of anthology you might like, check out the Kickstarter here!