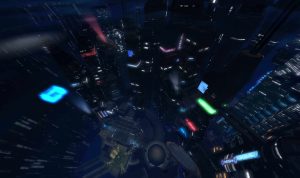 If you love cyberpunk and noir, the new Netflix series Altered Carbon will definitely scratch that itch! We had heard a few of our friends saying good things about it, so we sat down to watch the first episode and were hooked. We haven't binge watched the whole series yet, preferring to savor it a little more.
I will say that the show is not for kids. There's a lot of nudity and violence, and some of the violence can be quite brutal. But it's a fascinating concept (based on a novel by Richard K. Morgan, which I definitely want to check out now!) with amazing cinematography.
Are you watching Altered Carbon? I'd love to hear what you think of it. No spoilers, though, please! With our normal rate of watching TV shows, we might not be done until April!