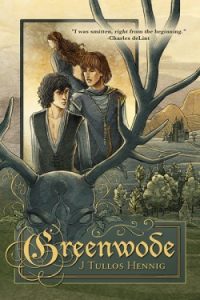 This past weekend at Rustycon, I was on a number of panels with J. Tullos Hennig, the author of a series known as The Books of the Wode, which she explains as "a reimagining of Robin Hood as a queer druid."
I'd met Jen previously through Broad Universe, and I've had one of her books on my "to be read" shelf for an embarrassingly long time. But getting to know her better through our many shared panels, I've decided that I need to get to that book as soon as I can!
If you like the idea of a reimagining of Robin Hood with LGBTQ themes, I'd definitely recommend Jen's writing. You can check out excerpts from her books on her website, and purchase them there or at other booksellers!