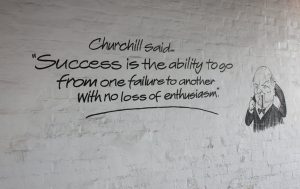 Having gotten a couple of rejections that stung pretty hard last week, this seems like a good bit of advice to open up this week with.
Winston Churchill said: "Success is the ability to go from one failure to another with no loss of enthusiasm."
This is extremely true for authors. Not everything you write is going to be golden, and some things will be outright failures. But you have to maintain your enthusiasm even in the face of those failures, or you'll never get anywhere!