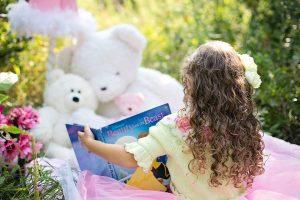 I read a lot of books that fall into the middle grade or young adult categories. I really love the middle grade books, because they're the sort of fantasy books I remember from my childhood.
I also write a lot of middle grade stories. The first story I published, "The Recondite Riddle of the Rose Rogue" (which can be found reprinted in the 2017 Young Explorer's Adventure Guide or podcast at Gallery of Curiosities) was for middle grade readers. And the characters from that story, Chrysanthemum and Marigold Marsh, reappear in my novella, The Trouble with the Tick-Tock Tabby.
I write middle grade not only because I love to read it, but also because I love the idea of kids reading. I started reading at a very young age, and I was a voracious reader. My mom has an old picture of me in summer clothes, sitting on a tree stump, shielding my eyes from the sun so that I can read a book. I suspect she had told me "it's nice out, go outside," and I had done so, but not without my book!
Nowadays, I have a handful of nieces from my own family and Jeremy's family, and I love knowing that I can pick out good books for them to read because I've read and loved them myself, in many cases. A couple of them are always happy when Aunt Dawn sends them books, because I haven't missed on one yet. And I'm more than happy to send them loads of books, because I know they'll read them!