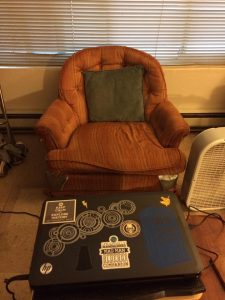 I do 99% of my writing on my laptop (the other 1% is usually on my phone or sometimes in Google Docs during my lunch break). But it's not the newest laptop, as you can tell by the excellent accumulation of stickers. It'll be five years old this November! In general, it's still running strong for my writing projects. But it's doesn't have the best processor when I do things like play The Sims 2. That game makes it overheat on a semi-regular basis.
I started trying to remedy this by buying a bamboo lap desk. And it works okay in terms of keeping the heat from the laptop off of my lap. But it wasn't quite sufficient in keeping my laptop cool, so I had to upgrade.
The new option I got is a cooling pad with fans and pretty blue lights! This has been working well to keep my laptop from running too hot. And I can put it on top of the bamboo lap desk so that I can angle my keyboard with the cooling pad. All in all, this has made working on my laptop MUCH nicer, especially on warm days!
I know that eventually I'll need to get a new laptop (and begin the very important process of choosing what stickers will go on the new one), but for right now, I'm pretty happy with my laptop accessories!