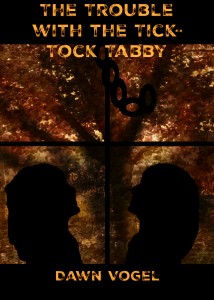 If you've been following me since the beginning, you might recognize the protagonists of my new novella, just out today! The Marsh sisters, who debuted in my very first published short story, "The Recondite Riddle of the Rose Rogue," are back in action in The Trouble with the Tick-Tock Tabby!
From the book: "Chrysanthemum and Marigold Marsh, girl detectives, investigate a break-in at their family's mechanical garden, and discover the culprit is a mechanical cat. After learning that the mechanical cat has only a limited power supply, they must find the cat to return it to its owner. But Dover is a big place, and there are Built Boys, a carnival, and a man called Solomon standing in their way. They'll need help from Inspector Gaspard Greymoor and his constables in order to rescue the mechanical cat before it's too late!"
The Trouble with the Tick-Tock Tabby is written for a middle-grade audience. It is appropriate for kids of all ages, but it's written at roughly a 4th grade reading level. It's available in ebook format only, at the moment, but I hope to get it into print sooner rather than later!