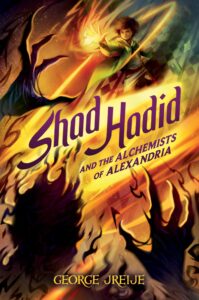 Shad Hadid and the Alchemists of Alexandria by George Jreije (Harper Collins, 2022) is an exciting and fast-paced book for kids of all ages who love magic, baking, and suspense!
Shad Hadid and his Teta are the remaining members of their family in Portland, Maine, having immigrated from Lebanon. While Shad goes to school and takes care of his Teta, he dreams about being a baker. But unbeknownst to him, his family has a history of being alchemists, which he discovers while running from bullies from his school. After training during the summer, he received an invitation to attend a school for alchemy. But when he arrives, it isn't quite what he expects, and he struggles to fit in, as well as figure out what's going on!
I really loved this book for the rich cultural touches of Lebanon, from the expressions Shad uses to the descriptions of the food he and Teta eat. It's exciting to see a world depicted so lovingly, yet in such a way that even readers unfamiliar with Lebanese culture can understand even the parts they may not know when they begin reading the book. The characters are also delightful, especially Hayati, who was easily my personal favorite. The book hits many of the wonderful high notes of a middle grade book, with a tween figuring out his place in the world and becoming part of a group of friends along the way.
If you've been looking for a new story featuring a magical academy, look no further than Shad Hadid and the Alchemists of Alexandria! This book will be published October 4, 2022!
The publisher provided me with a copy of this book in exchange for review consideration.